Conveying & Screening for the Mining Industry
Posted on December 6th, 2016 by vapro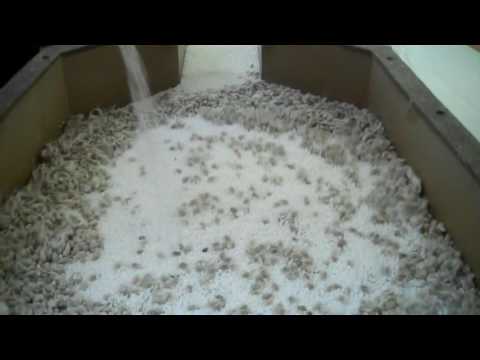 Triple/S Dynamics has been manufacturing equipment for the minerals/mining industries since its founding in 1888. The harsh environments of this industry require heavy-duty construction that promotes reliability.
This rugged construction combined with innovative, highly engineered design created the Texas Shaker Vibrating Screen known for high capacity, efficient screening of all types of minerals.
In the last twenty years, over 5,000 feet of Slipstick Industrial Conveyor has been moving hundreds of thousands of pounds of silica, quicklime, limestone, nepheline syenite, coal, pebble lime, and many other products that fall into this category.
Applications in the Minerals/Mining Industry
Conveying Cement & Clinker
Cement clinker is produced by heating to high temperature a mixture of substances such as limestone and shale. When cement clinker is ground with a specified amount of gypsum, it will produce Portland cement or when ground with specified amounts of gypsum and other materials it will produce blended cements.
Slipstick Conveyors have found their way into this process replacing buckets or belts. The Slipstick can handle this very hard and abrasive duty, highlighting other qualities of this conveyor including low abrasion, dust tight, low maintenance, and the ability to meter the feed downstream.
Conveying & Screening Lime/Quicklime
Both the Slipstick Industrial Conveyor and the Texas Shaker Vibrating Screen are conveying and screening crushed limestone and quicklime for some of the largest companies in the industry.
A large quicklime producer in Mexico bought their first Slipstick Conveyor in 2007 and over the past 11 years has purchased units for every location across Mexico.
Screening Potash
Potash is any of various mined and manufactured salts that contain potassium in water-soluble form. The name derives from pot ash, which refers to plant ashes soaked in water in a pot, the primary means of manufacturing the product before the industrial era.
Today, the Texas Shaker Vibrating Screen, some designed for sizing potash at more than 600 TPH in one machine, are at work at some of the largest producers in the U.S. and Canada.
Screening & Conveying Salt
Triple/S Dynamics equipment has been screening and conveying salt, in various forms, for over thirty years. From conveying table salt to flakes or screening to size salt pellets, the Slipstick Conveyor and the Texas Shaker Vibrating Screen have performed exceptionally well for decades.
Conveying Sand, Rock & Silica
The Slipstick Industrial Conveyor is the best choice for moving all types of sand, rock, or silica products. One processor came to us because the dust generated from a cutting process was causing bearings on the existing belt conveyor to fail very quickly.
Access to the bearings, which ran the length of the belt conveyor, was difficult and cumbersome so maintenance was a continual problem. Find out how this problem was solved.
Separating Perlite & Vermiculite
Since its beginnings, Triple/S Dynamics' dry separation equipment has used air and vibration to separate different densities of products like perlite and vermiculite.
Today, the S-25 Sutton Gravity Separator is separating the light from heavy (expanded from the unexpanded) vermiculite, in a range of separation across the face of the deck. In another application, the Sutton T-15 Stoner makes a two-way stream of heavy and light perlite product.