Conveying & Screening for the Agriculture Industry
Posted on December 6th, 2016 by vapro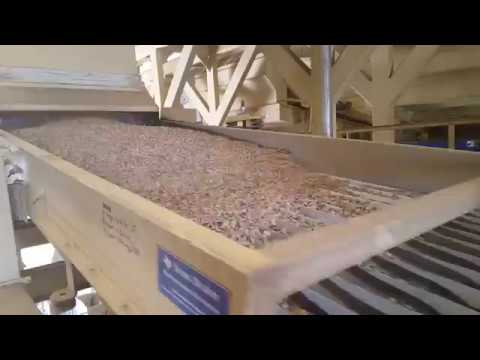 Agriculture is one of the world's largest industries. It employs more than one billion people and generates over $1.3 trillion dollars worth of food annually. Triple/S Dynamics has long been an industry leader with hundreds of Texas Shaker Precision Screeners, Slipstick Conveyors and Sutton Density Separators processing a wide variety of agricultural products.
Rugged, built-to-last construction has been a hallmark of Triple/S Dynamics equipment and in this market, we have many machines still operating efficiently after more than thirty years of continuous service.
Applications in the Agriculture Industry
Conveying & Screening Almonds/Nuts
Triple/S Dynamics supplies process equipment to the Almond Industry including some specifically designed to process almonds. Our Texas Shaker Vibrating Screens, Slipstick Horizontal Motion Conveyors and Sutton Density Separators have helped producers for over a half century.
Pre-Cleaning equipment

Slipstick receiving conveyor
Sand/Stick Separator
Detwigger/Sand Screen

Texas Shaker meat deck
Gravity separator
Hull meat recovery system
Video: Texas Shaker
Screening Almonds
Screening & Scalping Barley
Barley, a member of the grass family, is a major cereal grain grown in temperate climates globally. Barley is a source of fermentable material for beer and certain distilled beverages, and as a component of various health foods. Barley is in soups and stews, in barley bread of various cultures, and commonly made into malt.
In 2014, barley was ranked fourth among grains in quantity produced (144 million tons) behind corn, rice and wheat.
Triple/S Dynamics' Texas Shaker vibrating screens are scalping barley. See our Solutions Center story about scalping barley with a vibrating screen.
Video: Texas Shaker
Screening Barley
Conveying Beans
Part of the Legume family, beans are grown around the world. The pinto bean is a variety of the common bean. The pinto is the most popular bean in the United States and northwestern Mexico, and is most often eaten whole in broth or mashed and refried.
Each year farms plant 1.8 million acres of dry beans in the United States. Today, over 880 feet of Slipstick Conveyors are at work moving 95,000 (or more) pounds per hour (at 45 feet per minute) of dry pinto beans and navy beans at a manufacturer known for its beans.
Screening & Scalping Corn
Texas Shaker Vibrating Screens have been cleaning and/or scalping corn since the 1960's. Today, around the world Texas Shakers are screening in various ways, getting corn ready for further production.
From cleaning corn to make the mash to make whiskey to scalping corn at 3,000,000 pounds per hour, our experience in screening corn can help improve your operation
Video: Texas Shaker
Screening Corn
Conveying, Cleaning & Scalping Rice
Rice is the third largest crop in the world and served up in hundreds of ways. Whether it is moving puffed rice down a Slipstick Horizontal Motion Conveyor, cleaning on a Sutton Gravity Separator or Stoner, or scalping the oversize out of paddy rice at up to 10,000 bu/hr on a Texas Shaker Vibrating Screen, Triple/S Dynamics equipment has been helping rice processors for over 50 years.
Seed Processing & Cleaning
In 1919, Triple/S Dynamics patented the first Sutton Gravity Separator and it quickly found its way to seed cleaning in the 1920's. Today, we can add conveying and screening to the ways we can help seed processors.
Cleaning & Scalping Soybeans
The soybean is economically the most important bean in the world providing vegetable protein for millions of people and ingredients for hundreds of chemical products. Texas Shaker Vibrating Screens are cleaning and/or scalping soybeans since the 1960's.
Now some of those cleaned soybeans are sold to food companies, fertilizer companies, chemical companies who convey the end product on a Slipstick Conveyor.
Cleaning, Conveying & Screening Wheat
In 10,000 years, the earth's population has doubled ten times, from less than ten million to more than six billion. Most of the calories that made that population increase possible have come from three plants: corn, rice and wheat. The oldest, most widespread and, until recently, biggest of the three crops is wheat – its story is the story of humanity. The first product in our line, the Sutton Gravity Separators, were cleaning wheat almost a century ago.
In 2016, world production of wheat was 749 million tons, making it the second most-produced cereal after corn. Now, Slipstick Conveyors move puffed wheat, shredded wheat, wheat flakes and Texas Shaker Vibrating Screens screen/size wheat.